We've had a glimpse into the future – and it looks awesome.
Artificial Intelligence (AI) is set to proliferate in the coming years. And it spells great things for your customers.
Thanks to Manchester Digital we heard all about it at the latest Emerging Technology Forum: The Future of AI-powered Solutions.
Nick McCafferty, Business Innovation Manager for Bruntwood SciTech kicked things off. He welcomed around 80 businesses to Manchester Technology Centre and set out ambitions to create a 'thriving innovation district'.
What is AI?
AI uses computers to do things that traditionally require human intelligence.
In simple terms, algorithms classify, analyse, and draw predictions from data. AI then acts on patterns in this data to improve outcomes over time.
The exciting thing about AI is that it can be useful in many commercial scenarios. From predicting Covid-19 rates for the NHS, to deciphering which emails are spam, to helping underwriters assess risk and make better lending decisions.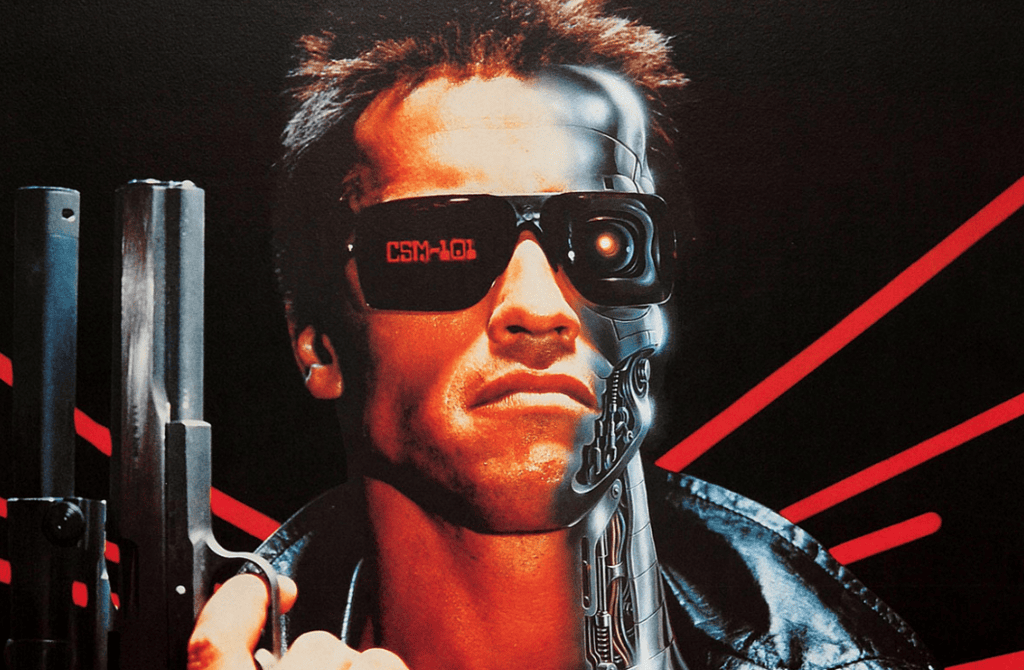 Cool, but isn't AI already a thing?
Yes. It's true that the concept of AI has existed in myth and legend since the last century. Skynet anyone 😬
An American computer and cognitive scientist called John McCarthy coined the term 'AI' in 1955. But, the ability to mimic human behaviour was only achieved in the late 2000s.
Today, it is being harnessed by businesses around the globe to predict and respond to consumer behaviour. For example, the leaps made in Chatbot and VoiceBot technology which is helping customers connect to businesses 24/7.
In fact, Gartner predicts that within 3-4 years virtual assistants will automate 80% of all call centre tasks.
Mark Chamberlain, CTO of Macclesfield-based software development firm Lokulus said: "The challenge now is for the Chatbot to recognise when a customer is stuck in an unhappy path. It may be that they have had 20 interactions, which is too high and indicates they are not getting the right answer.
"It's about how to recognise those patterns using AI, such as the use of key negative words to trigger bringing in a human agent."
Also cool, what else did the experts say?
We heard all about the evolution of Chatbots and VoiceBots from Dr Maria Aretoulaki of GlobalLogic UK&I.
This was in-depth and gripping from the tech leader who has been actually designing these 'bots' for the last 30 years.
Did you know, for example, the first commercial use of this was in the 1960s with a psychotherapy chatbot called Eliza?
Dr Maria spoke of the democratization of AI technology with consumer products on the market like Alexa and Siri.
But, she pointed out, there are limitations too. Such as natural speech often being ambiguous and ungrammatical.
Also, the design of the AI, in terms of UX is often overlooked until the end of a project when it should be front and centre – with your customer in mind.
Her advice? Have training delivered locally, include foreign accents in the data, and ensure it is representative of all users.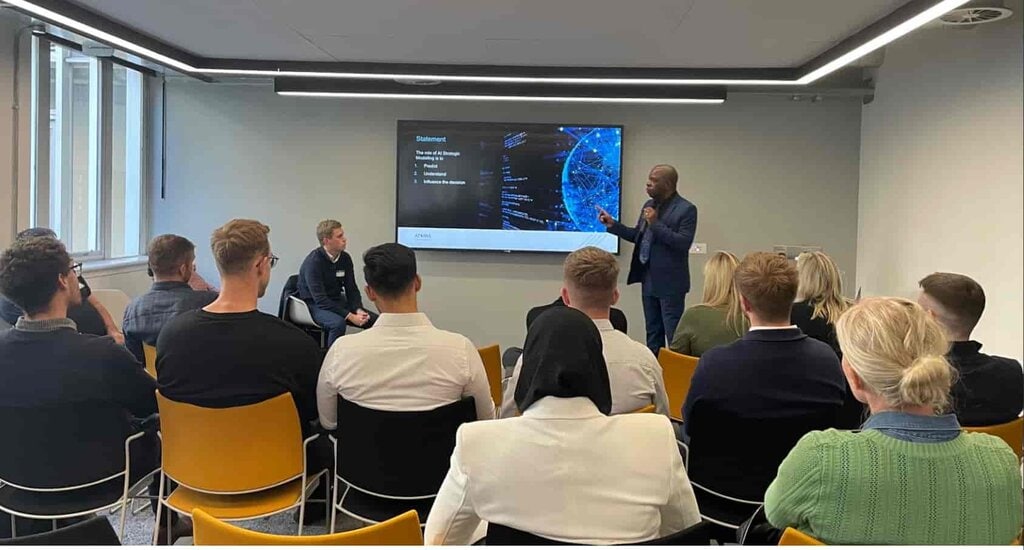 Elsewhere, a very enthusiastic Professor Nira Chamberlain took centre stage to discuss the role of AI in strategic modelling.
The Technical Fellow for Mathematical Modelling at Atkins emphasised the need to capture a potential client's curiosity. And he certainly captured ours.
His speech started with a nursery rhyme and ended with a project he'd worked on to design HMS Queen Elizabeth, the Fleet Flagship for the Royal Navy.
Really fascinating stuff!
Next up was James Procter, Head of Consulting Services at Robiquity.
He shared a great case study where the Northern Quarter business had helped Virgin Media O2.
Using intelligent automation they were able to identify when a contract was being cancelled due to bereavement and could direct the customer to a specially trained team.
His biggest takeaway, however, was the usefulness of internal Chatbots for businesses.
He said: "This is a game-changer for things like directing new starters to training manuals or connecting staff with HR in a more personalised way.
"It is currently being completely overlooked in the market, but the data which you gain is really insightful for instigating change."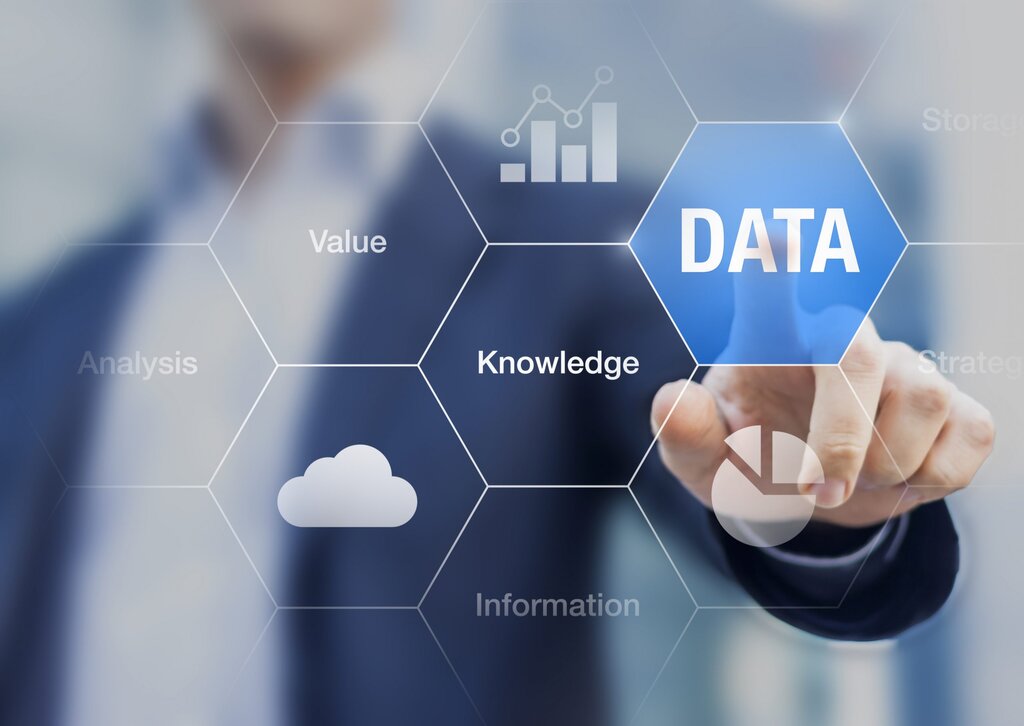 Great, how do we get started?
There is a high perceived cost with AI which often puts off businesses from exploring further.
Also concerns about the technical expertise needed to create and evolve the right algorithms.
But the first step is identifying the right area to focus on.
For example, is it more important for your business to understand consumer behaviour, like the way they navigate your website and where in the purchasing cycle they drop off?
Or, do you want to identify customer frustrations which are getting in the way of a sale?
Chatbots are a great way for firms to interact with customers almost instantaneously. They can direct potential purchasers to FAQs, give product details, and better direct them through the whole process.
Secondly, you need data, lots of it. Data is the lifeblood of AI and a natural consideration for any business when getting started.
But the MOST important thing, if you don't where to start but think it will benefit your business, is to start somewhere.
Explore your options, compare solutions or find a software partner that can help you scope, build, and implement AI.
Set a budget and realistic expectations of what your business wants to achieve and go for it.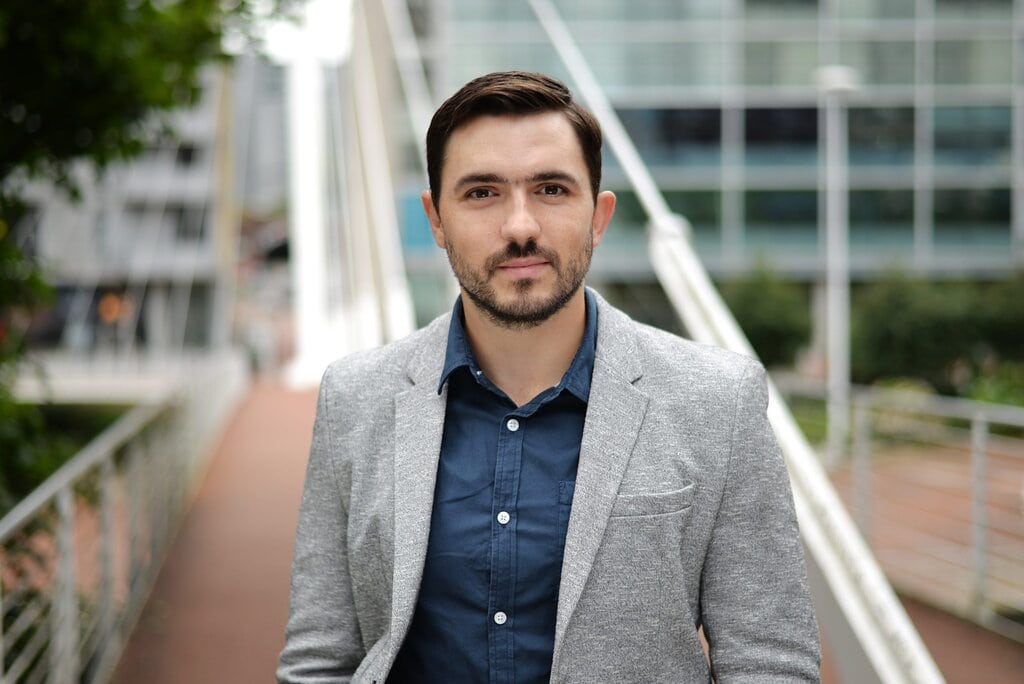 Dan Holgate, Chief Technology Officer at Agile Automations said: "Often modern business leaders know they need to embrace AI, but they feel out-of-their-depth.
"Or, they assume it will come with a huge financial burden or risk. That's not the case and there are quick wins out there to get you started.
"It's important to note that your data doesn't have to come from customer interactions, like Chatbots, you can also process/analyse various documents using existing technology like Microsoft's Azure Form Recogniser.
"Businesses are sitting on a wealth of data and don't realise it. Historically, they have communicated with their customer base via written and digital channels, which can now be retrospectively analysed and processed using said AI.
"At Agile Automations our team provides a full end-to-end service for robotic process automation (RPA). We deal with SMEs as well as international banking clients, to automate repetitive manual tasks and free up employees to better serve their customers.
"Effectively, we create software 'bots' to help businesses make cost savings and become more efficient.
"A big thank you to Manchester Digital for bringing thought-leaders in this field together; I know our team had a great time at the event and learnt a lot."
For a free consultation to explore how RPA can benefit your business, contact Agile Automations.