Come and see Agile Automations in the community village at Manchester Digital City Expo
The Community Village is an independently-run break out area, open to all Digital City Expo attendees. To visit the Community Village, please register for your free ticket to attend Digital City Expo
The Community Village is a space to get away from the hustle and bustle of the main Expo Hall, organised by Inclusively Tech and members of the Manchester Grassroots Tech community, sponsored by Agile Automations.
Located in room Central 3 in Manchester Central, at the Community Village you'll find activities, beanbags, blankets and a selection of tea, coffee, soft drinks, sandwiches and biscuits for the duration of the Expo on March 11th and 12th 2020.
In support of charities MancSpirit and MancMade, there will be an area in the Village to donate sanitary pads, tampons and non-perishable food to vulnerable people in Manchester.
The Community Village will also showcase the incredible organisers and volunteers who run free meet-ups and courses across the city, all aimed at closing the skills gap.
If your group needs funding/sponsorship or you're keen to showcase what you do, this is the perfect opportunity to do it!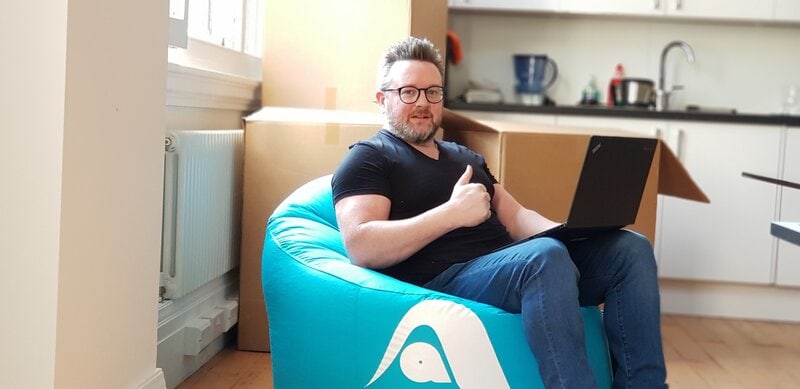 About Agile Automations
At Agile Automations, we have a vision of a future where robotic processes are used to revolutionise the roles and requirements of the future workforce.

Just as we have seen robots revolutionise the manufacturing industry by creating higher production rates, improved quality and cost savings, Robotic Process Automation (RPA) is revolutionising the way we think about and administer business processes, workflow, infrastructure, administration functions and customer service.

Agile Automations' solutions provide dramatic improvements in accuracy and cycle time and increased productivity in transaction processing while it elevates the nature of work by removing people from labour intensive, repetitive tasks, increased productivity and customer experience, both internally and externally.
Click here to arrange a demo
Agile Automations' Case-Studies


Bespoke, custom-coded nature of our solutions allows them to be versatile and agile. They deliver fantastic return on investment for any industry.

We are constantly looking for new business challenges and would love to build a proof of concept automation for you. This way you can benefit from fully supported RPA solutions without the need for massive investments or expensive changes to your systems.

Contact Us
Order Processing | Outlook | Attachments | Optical Character Recognition Rise of the Robots: How KCS [...]
Agile Automations' Blogs.


Would you like to see a demo or have a proof of concept built for you?

We are constantly looking for new business challenges and would love to build a proof of concept automation for you. This way you can benefit from fully supported RPA solutions without the need for massive investments or expensive changes to your systems.

Contact Us
Agile Automations are exhibiting at the Trailblazing Tech event on Friday, June 23rd alongside other key sponsors.
To get the most out of ChatGPT, you need to learn how to prompt it. Here we take a look at effective prompt management and offer some top tips.
Everyone is asking 'what is the future of AI'? And the team at Agile Automations have some predictions of their own. Here are six great suggestions to get you thinking...
"Access to OpenAI via Microsoft Azure not only improves our service, but it gives clients that extra reassurance because Microsoft is a secure provider. We are on the front foot with emerging technology, especially advances in AI."
The speed at which OpenAI is developing its flagship service and the potential it has to revolutionise every sector is incredible. Not only has it thrust AI into the public consciousness in a way we have never experienced before but the possibilities are endless.
Change management leaders from Nationwide, British Gas, Nokia, Heathrow Airport, Siemens, Transport Rail, Vitality and more took part in the day which Agile Automations sponsored.
At Agile Automations we cover all aspects of SAP integrations. This includes processing standard transactions, updating tables, and extracting reports to be used in other processes.
Join Agile Automations at The Process Excellence Conference in London on February 9 and hear the latest insight from Halfords, Oxford City Council, Siemens, Lloyd's, Santander, and AstraZeneca.
CEO of Agile Automations Martin Keelagher reveals how Manchester firms can get 'recession ready' with Intelligent Automation
In the final part of our Future is Automated series, we join forces with two other Manchester-based tech businesses to discuss how IA can drive new levels of accuracy and analytics at scale.
Digital transformation is happening across all business sectors and it's only going to accelerate. We ask the experts, what's the cost of not investing?
Hundreds of business leaders explored the commercial uses of AI at the latest Emerging Technology Forum from Manchester Digital.
With a growing focus at board level on Environmental, Social and Corporate Governance (ESG) it's clear that intelligent automation can pave the way for firms to achieve their targets.
Process automation is essential for any business that wants to be more efficient. Most businesses, regardless of sector, are striving to be more efficient, because when you think about it our potential is endless, but our time is not.
The post-pandemic business landscape requires businesses to adapt their service models and stay agile so that they can change as fast as the market situations or customer expectations change.
As automation specialists, we know better than most, how vital the adoption of new technology is for progression.
Ronak Halani, our group COO, shares the insights of and challenges in the 'Applications of AI in Fintech' at the FINTECH WEEK LONDON
Agile Automations, a specialist in robotic process automation (RPA), has been selected as a panelist along with Greg Cox, CEO of Quint Group to share the insights, success stories, lessons, and challenges on the Application of AI in Fintech.
It's 2021, the UK has gone into a third lockdown and we're back to working from home and it doesn't seem likely that we are going return to normal working patterns any time soon.
Agile Automations, a specialist in robotic process automation (RPA), has been shortlisted in the Best Use of Technology in Finance Award category at the Jersey TechAwards 2020. Also in the same category are BankClarity, BDO Jersey and RBS International.
The legal sector is often seen as a profession that has proved mostly resistant to technological disruption, perhaps driven by the importance of human relationships and the need for creativity and interpretation.
The rapid shift to digital transformation saw years of innovation taking place in just a few short months in 2020 and shows no sign of slowing, as we enter 2021 and beyond. As a result of the pandemic, companies across the globe decided to adopt new technologies overnight, that they might previously have been inclined to implement over a period of time.
Santa Claus has been working hard behind the scenes to make sure nearly 2bn children across the globe receive their Christmas presents on time and the pandemic isn't going to stop him, or his merry elves.
Manchester-headquartered robotics process automations firm, Agile Automations, has been named today in Mills & Reeve Top Tech: North West. Agile Automations joins some of the region's most pioneering and innovative technology companies across the North West.
A fast-growing Manchester-headquartered robotics firm has moved its head office to Bruntwood Work's historic Blackfriars House as it reveals plans for further growth. Agile Automations has relocated from WeWorks in No.1 Spinningfields to larger office space at the newly refurbished building in to accommodate new staff over the next 18 months.
With the pressure COVID-19 has put on the healthcare system, it is more important than ever to explore new technologies that have the potential to ease operations and free up NHS and social care staff time so they can focus on what is important, caring for people
High performing companies that have adopted the use of AI and machine learning are beginning to see a return on their investment.
Specialist, Manchester-based, Robotic Process Automations firm, Agile Automations, has appointed Shelina Begum to head up the company's communications strategy.
As a small business owner, it can sometimes feel like you need eight arms to get everything done.
Manchester tech businesses have collaborated with industry leaders on the challenges around data sharing. The Virtual Innovation Lab, ran by FutureEverything, focused on how citizens can safely participate in society through digital platforms. As part of the Innovate Manchester programme, organisers brought together large businesses, SMEs and academia to exchange ideas on real-life scenarios.
It's the medical breakthrough on everyone's lips. The promising news of a possible Pfizer vaccine, announced earlier this week, is already being hailed as 'a watershed moment' in the fight against Coronavirus.
Every organisation can benefit from faster, more efficient, business processes; that's a fact. Whether it's processing payments, handling data or carrying out regulatory checks, by embracing technology you can streamline your business and liberate your workforce.
As the fallout from the global pandemic continues, businesses are facing up to the fact that some changes are here to stay.

Agile Automations takes a look at the trend for a remote workforce and how this 'new way of working' will be more reliant on technology than ever.
Bespoke, custom-coded RPA solutions deliver some unique advantages over off-the-shelf, record-and-play products. We have worked with several clients and compiled a list of the most commonly asked questions on RPA.
The Community Village will also showcase the incredible organisers and volunteers who run free meet-ups and courses across the city, all aimed at closing the skills gap.
What is RPA and how do we, at Agile Automations, stand out from the other solutions in the market?
The only solution here is the "Bespoke" RPA. The RPA solution - built using bespoke coding using agile methodology, that can be updated with a couple of lines of code and can always stay ahead of the change.
Robotic process automation (RPA) is the application of technology that allows a software application, a "robot" to capture and interpret existing applications for processing a transaction or process, manipulating data, triggering responses, and communicating with other systems or applications.
Identifying the benefits to look for at the post implementation review 1. Efficiency improvements Resource saving is the biggest and most highlighted benefit of RPA, providing true sense of ROI in tangible terms. Other [...]
Humble confession In our over 10 years experience of building bespoke automations, we have gone through various ups and downs and learnt a few lessons along the road before deciding that the best [...]
Agile Automations' insights into the RPA development based on experience 1. Identify what can be automated A successful RPA programme should start with proper planning and vision of a clear road map as [...]
Right at the start of an RPA programme, there is a need to analyse the business requirements, forecasting all the possible scenarios, future challenges for adaptations or scalabilities.
Over 3 years and a 6-figure investment into established well-known packaged Robotics software has been replaced in a matter of weeks at a fraction of the cost with Agile Automations.
In some cases, we were waiting months for fixes to source system adapters with established well-known packaged Robotics software, we've not had to wait longer than a single day with Agile Automations to fix matching or interrogation issues.
What took 6 months to develop with an established well known packaged Robotics software tool took 6 days with Agile Automations!

Agile Automations are built with effective error trapping and rather than crashing or freezing they present the user with the information from the source system which is causing the error, gone are the days of wanting to throw the computer out the window…